Teeth Whitening in New York City
The ZOOM!® Chairside whitening system is a scientifically advanced tooth whitening procedure. It's safe, effective and fast – very fast. In about an hour your teeth will become dramatically whiter. ZOOM!® Chairside whitening is ideal for anyone looking for immediate results. The convenience of ZOOM!® in comparison to days of wearing trays or strips, makes it the perfect choice for the busy individual.
What is the Teeth Whitening Procedure Like?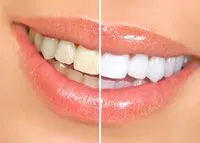 The procedure is simple. It begins with a short preparation to cover your lips and gums, leaving only the teeth exposed. The ZOOM!® Clinician then applies the proprietary ZOOM!® Whitening gel that is designed to be used with a specially designed light. The ZOOM!® Light and gel work together to gently penetrate your teeth, breaking up stains and discoloration. Take your first step to feeling good, looking great, and making a memorable impression every time you smile.
Other whitening systems don't compare to the Zoom!® Chariside Whitening System. Nothing whitens better or faster.
How Does ZOOM! Compare to Other Whitening Options?
Treatment of Time
Results
Notes
ZOOM !®
Chairside
2 Hours
Avg. 8 Shades
Immediate Results
Long Lasting
Less fadeback
Safe & comfortable
Performed by a Dental Professional
At Home Trays
7-14 Days
6 Shades
Self applied Trays No immediate Results
Whitening Strips/Paint on Gel
7-30 Days
3-4 Shades
Inconsistent tooth whitening No immediate Results
ToothPaste
1 month +
1-2 shades
Results fade if you stop using the toothpaste Superfical stains only
Mitchell Sabbagh, DMD and the staff of ADNY would be happy to discuss teeth whitening procedures with you. Please feel free to Schedule an appointment online or contact our office for a private consultation.